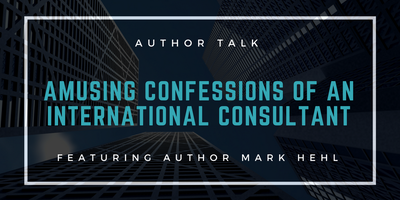 Join us for a book talk as author Mark Hehl discusses his new book, Amusing Confessions of an International Consultant.
The world is getting smaller, especially when it comes to the world of business. This book chronicles the author's experiences assisting many clients with operational excellence and technology transfer projects in over forty countries covering multiple industries / technologies. Hear the author discuss his amusing experiences and humorous encounters during his travels across the world. A must for professionals who are interested in achieving success and a culture of excellence in a global environment.
About the Author
Mark Hehl is an engineer, consultant, public speaker and author of the book Amusing Confessions of an International Consultant. He has spent time on the ground in over forty countries assisting clients with various technology transfer and operational improvement projects. Mr. Hehl holds a BS Degree in Electrical Engineering from the New York Institute of Technology and a MS Degree in Management from the Polytechnic Institute of New York. Mark is a Six Sigma Black Belt, Certified LEAN Practitioner and has taught Management at Harper College. He has conducted multiple webinars for Industry Week. Mark is a frequent guest on National Public Radio and is listed in the United Who's Who Executive Directory 2002-2003. He is a contributing author of the book Cases on Globalized and Culturally Appropriate E-Learning Mr. Hehl spends a significant amount of time in both Latin America and Asia assisting his clients and their suppliers. He is very familiar with the Latin American and Asian cultures and ways of conducting business there.
Doors open at 5:45 PM. Book talk begins at 6:00 PM.