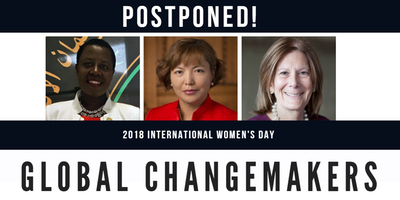 **Postponed** 
Unfortunately, due to impending inclement weather, we are postponing the event. The event will no longer take place on March 7, 2018. Stay tuned – rescheduled date to be announced soon!
 
International Women's Day is a global day celebrating the social, economic, cultural and political achievements of women.
On March 7, we celebrate global changemakers – women pressing for progress at the edge of today's most prominent global movements.  
Featuring a panel of distinguished women:
Bayartsetseg Jigmiddash has held senior government positions in the justice sector and has been at the forefront of Mongolia's far-reaching reform initiatives. Currently, she is CEO and Founding Director of Veritas Consulting. From 2012 to 2016, Jigmiddash served as Secretary of State of the Ministry of Justice of Mongolia, becoming the first woman appointed in this position. Under her leadership, the legal policy on gender-based violence has been significantly improved, including criminalization of domestic violence. Prior to this top civil service post, she served as legal advisor to the president of Mongolia, and has been involved in the judicial reform as well as abolishment of death penalty in Mongolia. She has extensive civil society experience and pioneered an array of initiatives to promote human rights and access to justice.
Stephenie Foster is a Partner in Smash Strategies and a former Senior Advisor and Counselor to the Ambassador-at-Large for Global Women's Issues at the U.S Department of State. As a member of the leadership team, she coordinated, managed and implemented a wide range of policies and programs, including the women, peace and security initiative, women's political participation and women's economic empowerment. At the State Department, Ms. Foster represented the United States in various multilateral and bilateral forums. She served at the U.S. Embassy in Kabul, Afghanistan, focusing on women and civil society, travelling extensively throughout the country to work with individuals and organizations advancing the role of women in Afghan society. Ms. Foster served as Chief of Staff to two United States Senators, Barbara Mikulski and Christopher Dodd.
Josepha M. N. Musabyemariya is the United States Rwandan Community Abroad (USRCA) Commissioner for Gender and Social Affairs. She also is President of Rwandan Community Abroad (RCA) in Maryland, District of Columbia and Virginia (DMV). She has more than 25 years of experience in handling special projects and initiatives designed to positively impact lives of people in her home country of Rwanda,  the communities in and outside DMV and around the globe. She works for the African Union in the U.S.  In this office, she was among the handful of individuals charged with setting up the African Union office in Washington DC which was just prior to the arrival and assumption of duties of the first Permanent Representative in 2006. Josepha's passion lies in dealing with all issues concerning gender and women empowerment.
5:00pm | Reception
6:00pm | Event followed by opportunity for audience Q&A
Sponsored By:
 
Presented By:
In Partnership With