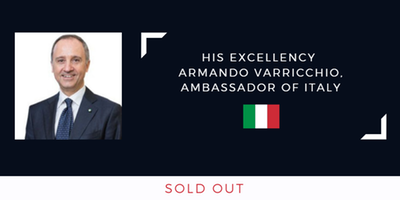 SOLD OUT
For any inquiries, please contact Program Director Amanda at (860) 724-2953 or ajolly@ctwac.org.
 
Join the World Affairs Council of Connecticut in hosting His Excellency Armando Varricchio, Ambassador of Italy to the United States for a Global Connections Luncheon exploring the strength of the Italy-U.S. strategic relationship, the challenges and uncertainty facing the European Union, and the critical role that Italy plays in the region and in the world.
 
 
His Excellency Armando Varricchio,
Ambassador of Italy to the United States
On March 2, 2016 Armando Varricchio presented his credentials as Ambassador of Italy to Washington, where he had previously served as Head of the Economic, Trade and Scientific Affairs Section, from 2002-2006. Prior to this, he held many high-ranking positions both within the Italian government and abroad. In particular, he specialized in European and transatlantic affairs during his years at the Italian Representation to the European Union and at the Commission. Formerly Ambassador to Belgrade, before that he served, as a young diplomat, in Budapest during the dissolution of the Warsaw Pact and the Soviet Union.
While Diplomatic Advisor to the Presidents of the Council of Ministers Enrico Letta and Matteo Renzi, and Deputy Diplomatic Advisor to the President of the Republic, Giorgio Napolitano, he handled some of the most delicate international dossiers, with a particular focus on security issues. He has a specific expertise in the field of global issues, as he served as Personal Representative ("Sherpa"), at G7/8 and G20 summits both at a national and a European level.
 
Doors open at 11:30am for networking.
Lunch is served and discussion begins at 12:00pm, followed by opportunity for audience Q&A.
 
With any questions, please contact Program Director Amanda Jolly at (860) 241-6118 or ajolly@ctwac.org.