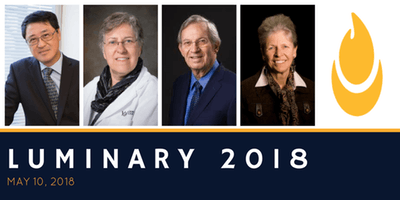 2018 Luminary Award Recipient
The World Affairs Council is celebrating Connecticut's global leadership in cancer research and innovation at the Luminary Award. The Council is proud to honor Yale Cancer Center, a ground-breaking center for global health, as the 2018 Luminary Award recipient.
Innovations made here in Connecticut impact health on a global scale. Through collaboration among world-class institutions of education, healthcare, bio-pharma, and research here in Connecticut, the state has developed a health ecosystem that enables scientific risk-taking and fosters a well-developed network of some of the world's premier hospitals.
In this exemplary company, the Council is proud to highlight Yale Cancer Center. The Yale Cancer Center is one of the select few centers in the nation and the only one in southern New England designated a comprehensive cancer center by the National Cancer Institute. Through pioneering research, health innovations, and breakthrough treatments, the Yale Cancer Center is leading the world in cancer research for the betterment and advancement of our global community.
This is an extraordinary opportunity to meet four world leaders in health innovation, together in one room.
Get to know these pioneers who are shaping the future of global healthcare.
2018 Luminaries:
Lieping Chen, MD, PhD, "Father of Immunotherapy"
Patricia LoRusso, DO, Transformational leader in cancer clinical trials
Joan Steitz, PhD, International pioneer in understanding the role of RNA in biology & cancer development & progression
Vincent DeVita, MD, Pioneer of chemotherapy and founder of the leading international textbook of oncology, "Cancer: Principles & Practice of Oncology"
Featuring:
Dr. Charles Fuchs, Director of the Yale Cancer Center, Physician-in-Chief of the Smilow Cancer Hospital, and Richard & Jonathan Sackler Professor of Medicine at the Yale School of Medicine.
Dr. Max Gomez, Award-winning medical journalist and author with 32 years of experience in the field.
 
Sponsorship Opportunities Available 
Click here for details: Sponsorship Opportunites
To discuss Sponsorship Opportunites, please contact CEO Megan Torrey at mctorrey@ctwac.org 
About the Luminary Award
The annual Luminary Award is the signature event of the World Affairs Council of Connecticut. It honors one or more individuals or an organization from Connecticut that has profoundly influenced global affairs, with a strong emphasis on achieving the overall betterment of the world.
Luminary Award History
2004 – Harry Jack Gray, former Chairman of UTC –keynote The Honorable Alexander Haig
2005 – University of CT UNESCO Chair, keynote — keynote President Mary Robinson
2006 – Save the Children, keynote — keynote Cokie Roberts
2007 – Connecticut's Iraq and Afghanistan war veterans — keynote General Eric Shinseki
2008 – ESPN International in recognition of their role in global sports diplomacy — keynote Chris Berman
2010 – Former Secretary of State, Dr. Henry Kissinger
2011 – Association of Hole in the Wall Camps
2012 – Nobel Peace Prize Committee
2013 – Sikorsky Aircraft Corporation—A leading global innovator
2014 – AmeriCares  — keynote Ambassador Robert Ford
2015 – Peter G. Kelly, Esq. — keynote Senator Mark Warner of Virginia
2016 – Aerospace Components Manufacturers — keynote Colonel Mark Tillman
2017 – United Technologies (UTC) — keynote Dr. Robert Ballard
FAQs
What is the attire? 
Business Attire
What are my transport/parking options getting to the event?
Parking is available in the many parking garages near the Marriott Downtown.
Where can I contact the organizer with any questions?
Please email info@ctwac.org with any questions, or for more information on sponsorship.