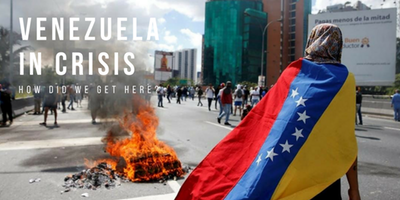 More than 100 people have died as violent protests escalate in Venezuela. President Nicolás Maduro continues to consolidate power amid charges of election fraud and Venezuelan citizens face food shortages, medicine scarcities, blackouts, unemployment, and rising violence. On August 11, President Trump threatened direct U.S. military intervention in the Venezuelan crisis.
How did we get to this point?
Join the World Affairs Council of CT as we explore what led to the current conflict and what's in store for the nation's future.
Reception | 5:30pm
Discussion | 6:00pm
 
Featuring
 
Dr. Marco Cupolo,
Associate Professor of Hispanic Studies at the University of Hartford. Dr. Marco Cupolo has held teaching positions at Trinity College, the University of Connecticut, Central Connecticut State University, and the University of Massachusetts, in addition to Universidad Central de Venezuela, Universidad Simón Bolívar and La Universidad del Zulia in Venezuela. Dr. Cupolo is the author of several books inluding Petróleo y política en México y Venezuela (Oil and Politics in Mexico and Venezuela).